Home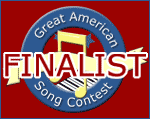 We are thrilled that Cynthia's wonderful original song, "Our House, Our Town," has been selected as a finalist in the nineteenth Annual Great American Song Contest!

The judge's evaluation reads as follows: "Warmly engaging folk/Americana musicality beautifully pairs with the romantic sentimentality of the words. In conjunction with the well-focused & universal premise, this song stands out brilliantly - this is good songwriting!"

We could not agree more!
Delivering an eclectic blend of folk, swing, doo wop, jazz and Americana music for over thirty years, Sonoma Valley's very own Cynthia Carr & The Carrtunes are known for their delicious vocal harmonies, infectious arrangements, and sheer delight in performing.
The band formed around a common bond - their children. When their kids were just beginning grammar school together, the original band members joined forces to perform at school talent shows, and the rest is local musical history. Though members have come and gone over the years, the core group remains the same, and they still meet every Monday to rehearse, just for the joy of making music together. A Carrtunes Banquet is their first album.